Hello peeps!
I have a confession to make.
I have an addiction.
I'm addicted to stitch markers.
Big ones, small ones, felted ones, round ones, beaded ones, triangular ones, rubber ones, metal ones, plastic ones, attachable ones, fixed ones………
I think I might need an intervention.  Seriously, no single person needs that many stitch markers (shhhh….. don't tell Mr HK 😉 )
In defence of my addiction, I have used all of them and I have a variety of sizes for every project on my needles (I'm not sure if that latter one is really a good defence though 😕 ).  I have some very cute ones, like the Teapot and Teacups from Steph Cuddles.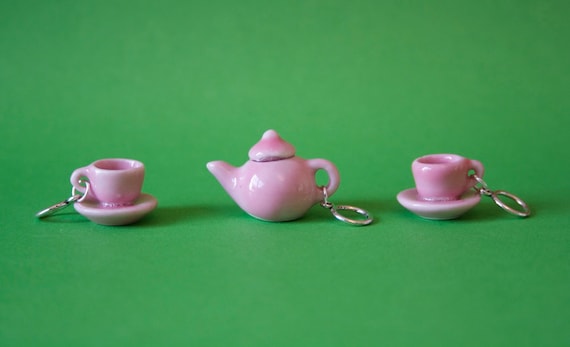 Or the little felted balls with embroidered sheep from Jelby.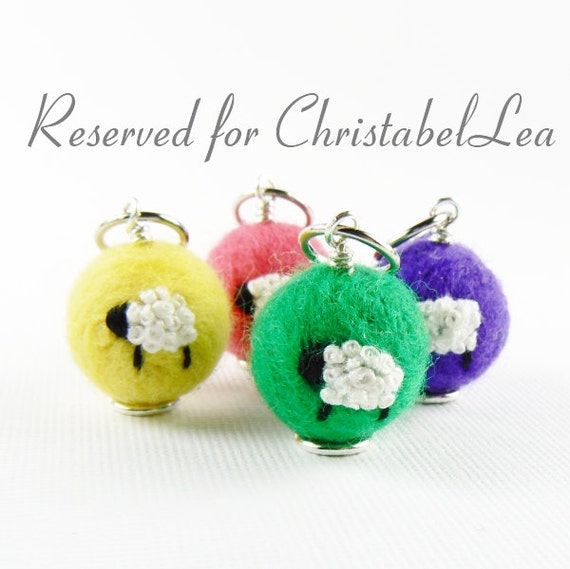 I love them, but not all of them are very practical.  I find with the dangly ones that I have to move the bead/ dangly bit out of the way otherwise the stitch marker gets caught up in the stitch or the yarn gets tangled on the dangly bit.  It doesn't matter how big or small the bead/ dangle is, inevitably I have to flick the marker out of the way which takes time and is a little bit annoying after a while.
My favourite stitch markers, the ones that I find most practical (and rather pretty too) are the ring-o's.

I am now the proud owner of 2 sets of snagless/ ring o stitch markers (in 2 different sizes, just in case you were wondering).  I love these!  They are pretty, they are practical, and there is no need to flick anything out of the way.  The added bonus is that they can come in multicoloured sets, perfect if you specifically need different coloured/ lettered markers (although if it was me, I'd note down which colour correlated with which marker on the pattern).  I bought the set above from Knits by Jo, they are the XS size and fit a needle up to size 2.75mm – perfect for all my socks!  Jo is also an Aussie (and local to me too) so it wasn't a hard decision to buy these very pretty stitch markers (I like to think I reduced my carbon footprint by buying local rather than from overseas).  I must admit that I'm really glad that I bought the XS ones from Knits by Jo, it's nice to have something small specifically for my sock projects (and it's so good to have an excuse to show them to you, I bought them a little while a go and haven't had a chance up until now).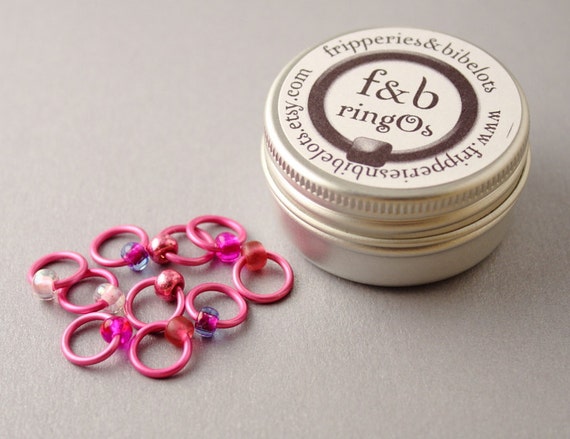 The above set was my first set of snagless stitch markers and have been my go to stitch marker for all of my projects up to a size 4mm needle and I love the Fripperies & Bibelots store, there is such a great range of coloured rings and beads and they come with that cute little tin.  They also make a great gift for the knitter who has (almost) everything.  I really really love the snagless variety of stitch markers and would highly recommend them to any one looking for pretty but practical stitch markers.  Don't get me wrong, I like the dangly ones and I have used them regularly
… but I prefer the snagless/ ring o variety and will eventually add larger sizes to my collection.
PS.  Except for the picture of Millrace, I've copied all the pictures from the various etsy stores so you could see how awesome the markers look, without being distracted by my projects or fingers.